10/26/01
---
This one owes mad props to Peggy.
Also, you'll need to know that Charmin's current slogan is "Cha-Cha-Cha-Charmin!", and an older one of theirs is "Please don't squeeze the Charmin."
---
Presenting...

An Idea I Had for a Commercial
By Satan


Setting: A typical American supermarket, in a fairly large open space. A stock boy (Ricky Martin) is setting up a toilet tissue display (Charmin).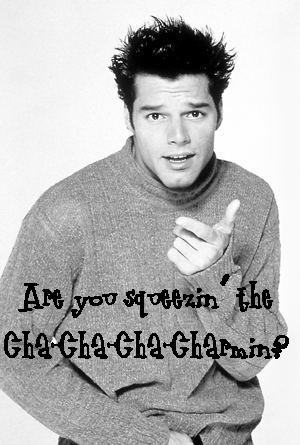 Enter shopper (Boy George), pushing cart full of miscellany, typical grocery-type things. Oh, hell, it's Boy George. The cart is filled to the brim with a combination of garishly attired and naked Ken dolls and makeup, with a large, silver disco ball in the middle.

Boy George: (pushes cart over to display, the other side of which Ricky Martin is working on. Does not yet notice Ricky.) OOoooOOooooh, Charmin!

Boy George selects a package of Charmin, lifts it to chest level, and squeezes it deeply while shutting his eyes blissfully and sighing.

Ricky Martin now pokes his head around display.

Ricky Martin: (indignantly) Hola! You there! (enters from around side of display) Are you squeezing the Cha-Cha-Cha-Charmin? (emphasizes the "Cha-Cha-Cha" by shaking his bon-bon)

Boy George: (replaces Charmin and eyes Ricky appreciatively from toe to head to toe again, then reaches around and squeezes something hidden from our view)

Ricky Martin: (eyes get big and throws hands in the air, again shaking his bon-bon) Cha-Cha-Cha-Charmin!

Freeze-Frame and insert Voice Over (deep male voice): Please don't squeeze the Charmin. Please.

Ricky sound clip Voice Over: Cha-Cha-Cha-Charmin!




The End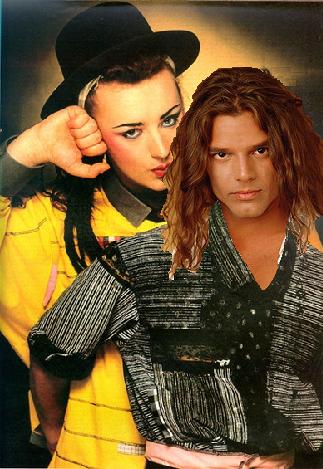 ---
Yep. Scary as hell. Actually, it's kind of ripped off of the casting for Dirty Dancing 2, which stars Boy George and Ricky Martin.
Now I've...had...the time of my life

CHA-CHA-CHA

No I never felt like this before

CHA-CHA-CHA

Yes I swear it's the truth

CHA-CHA-CHA

and I owe it all to you

And that's why Charmin's slogans are really the work of Satan. Or at least really big Ricky Martin fans, which is close enough.